Moon Gravity: Your Weight on the Moon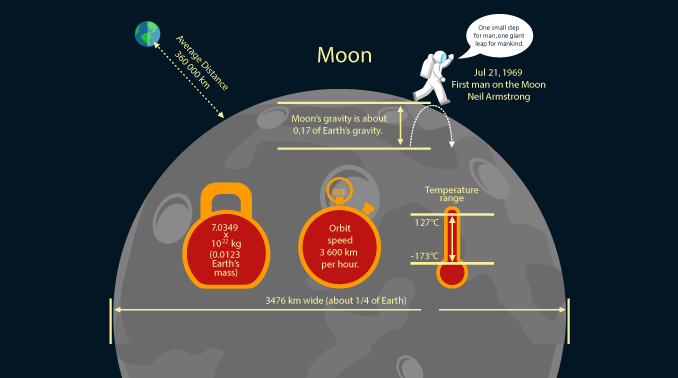 What is the moon's gravity?
The gravity of the moon is 1/6 of Earth. So if you stepped on a scale on the moon, you could subtract 83.5%.
For example, that means 100 kg in weight would be 16.5 kg on the moon. Talk about a weight loss plan!
If you want to calculate how much you weigh on the moon, take your weight and divide it by 6.
The moon's unusual atmosphere
Despite popular belief that the moon can't hold onto an atmosphere, it actually consists of sodium and potassium.
Yet these gases cannot be found in Earth's atmosphere, Venus or Mars. It's because the moon's gravity pulls in these gases which gives it an atmosphere.
That means that a lack of atmosphere means the moon's surface gets very hot (117°C) when facing the sun. But it also gets cold (-153°C) when facing away from the sun.
The Moon's gravitational pull on Earth keeps it steady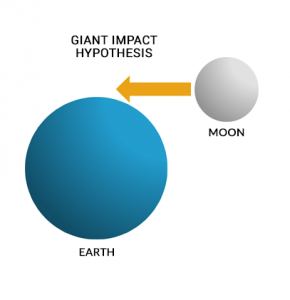 The giant impact hypothesis sums up the formation of the moon. It had a tremendous impact on stabilizing Earth's climate.
For example, the gravitational pull from the moon on Earth helps prevent it from wobbling. In turn, this prevents climate swings and wild temperature shifts.
Finally, the giant impact collision tilted Earth on its axis. Ultimately, this tilt is the primary cause of seasons on our planet.
What is the Moon's Gravity?
The gravity of the moon is 1/6th that of Earth. If you stepped on a scale in the same location, it would read 83.5% less than what it does here.
This significant difference in gravity on the moon is due to its smaller mass compared to Earth, making lunar exploration a unique experience for astronauts.
If you have any questions or comments about the moon's gravity, please do not hesitate to let us know what's on your mind. We would love to hear from you.