Mars Atmosphere Compared to Earth
How is Mars' atmosphere different from Earth's?
Mars' atmosphere is mostly carbon dioxide-based. But Earth's atmosphere is rich in nitrogen and oxygen. You can compare their atmosphere compositions in the table below:
| | | |
| --- | --- | --- |
| Dominant Gases | Mars | Earth |
| Carbon dioxide (CO2) | 96% | 0.0391% |
| Nitrogen | 1.9% | 78.1% |
| Oxygen | 0.174% | 20.9% |
| Argon | 1.9% | 0.93% |
Similar to planet Venus, carbon dioxide dominates Mars. Lucky for us, CO2 is less than 1% of Earth's atmosphere composition. Because Mars' atmosphere is 96% carbon dioxide, any plants would blossom if they existed. All they are missing is a source of water.
While 78.1% of Earth's atmosphere is nitrogen, Mars is only 1.9% nitrogen-based. Earth is rich in oxygen (20.9%). But we can only find trace amounts of oxygen on Mars. Other than trace gases, argon comprises 1.9% of Mars' atmosphere.
How is Mars' atmosphere volume different from Earth's?
Mars has a much thinner atmospheric volume compared to Earth. Earth's atmosphere is over 100 denser than Mars.
Keep in mind that Earth's size in the infographic above is much larger compared to Mars. Mars is about half the size of Earth in diameter.
If you account for total mass, Mars is about 10% of Earth. For volume, it would take 6 Mars to fill in Earth.
What's the history of Mars' atmosphere?
There's a lot of evidence suggesting Mars' atmosphere has evolved and it was once much warmer and wetter.
Long ago, volcanism was likely prominent on Mars. When you have that much volcanism, this means Mars probably had a thick atmosphere and probably an ocean hundreds of meters thick.
Because Mars doesn't have a magnetic field, solar winds have stripped away much of Mars' atmosphere into the cold, arid planet Mars is today.
Furthermore, Mars has dust storms that cover the entire planet and last for weeks. These dust storms are so influential that it can change the atmospheric temperature.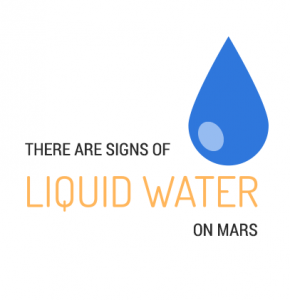 What are the trace gases on Mars?
Trace gases on Mars make up less than 1% of the volume of Mars. They consist of the following gases – are acetylene, carbon monoxide, krypton, methane, neon, nitrogen oxide, oxygen, ozone, water vapor, and xenon.
Even though they make up a small percentage of volume, ESA's ExoMars Trace Gas Orbiter is capable of sniffing out these types of trace gases. In particular, the amount of methane in Mars' atmosphere holds clues to Mars' past atmosphere.
On Earth, methane released into the atmosphere is large because of livestock and other agricultural practices. But also, hydrocarbon gas reservoirs and volcanic activity can release methane. Because biology plays a key role in the release of methane in the atmosphere, its source has become a top in ESA's Mars Exploration Program
Additional Resources
NASA's Mars Exploration Program
If you want a flashy way to see the Red Planet, check out Nasa's Mars Exploration Program.
It includes everything from Mars' current weather, recent images from the Mars Rover, and more.
Specifically, we love their infographic of Mars facts. If you're in a hurry for quick facts about Mars, it has everything like density, tilt, seasons, weight, and gravity.
ESA's ExoMars Program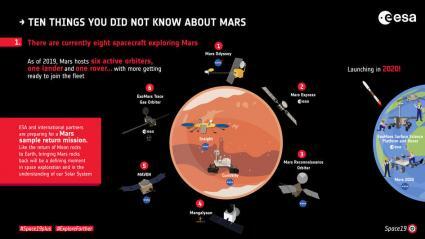 We also enjoyed the European Space Agencies list of 10 things you did not know about Mars.
Obviously, you're going to know some of these facts about Mars. But some of them you're not going to know…
Like did you know Mars has 3 ozone layers? But if you enjoy eyeballing stunning visuals, ESA has a couple of beauties.
Mars Atmosphere Compared to Earth
Mars is one of the most intriguing planets in our solar system. The planet has a fascinating atmosphere that scientists are still trying to understand.
There is a lot of opportunity in the field of astronomy. These online courses can help you get started with this career, as well as other opportunities in science.
If you have questions about science, please fill out the comment form below for us.